Medicine Center Pharmacy – New Philadelphia
(View Map)
551 West High Ave
New Philadelphia, Ohio 44663
Ph: 330-339-4466
Monday-Friday 9:30am – 6pm Saturday 9:30am – 2pm
Online Prescription Refill
The Medicine Center Pharmacy in New Philadelphia, Ohio is located on the corner of 6th Street NW and West High Avenue.
The New Philadelphia Medicine Center Pharmacy specializes in customized non-sterile medication compounding, diabetes supplies, ostomy supplies,  home health care supplies, and natural and herbal supplements.
In 2007 we earned the Pharmacy Compounding Accreditation Board's Seal of Accreditation, a system of standards created by some of the leading organizations in the pharmacy profession.  We were the first Medicine Shoppe Franchise Pharmacy in the nation and only the second pharmacy in Ohio to receive the honor.  The accreditation confirms our commitment to providing personalized solutions that meet the medical needs or our patients, and the needs of the healthcare providers in the community.  For more information about PCAB Accreditation, visit www.pcab.org
We offer free delivery to the greater New Philadelphia and Dover area.
We know that sometimes a new product or process can be confusing.  Pharmacists Brad White, R.Ph., Christina Smith, R.Ph., and Janice Marciniak, R.Ph. are happy to talk with you and answer any questions you have about everything from natural medicines and diabetes meter training to Medicare HMO billing.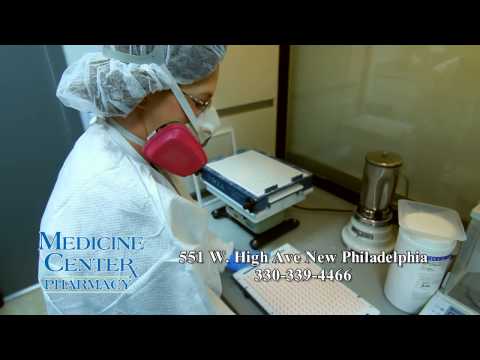 How do I use my compounded medications?